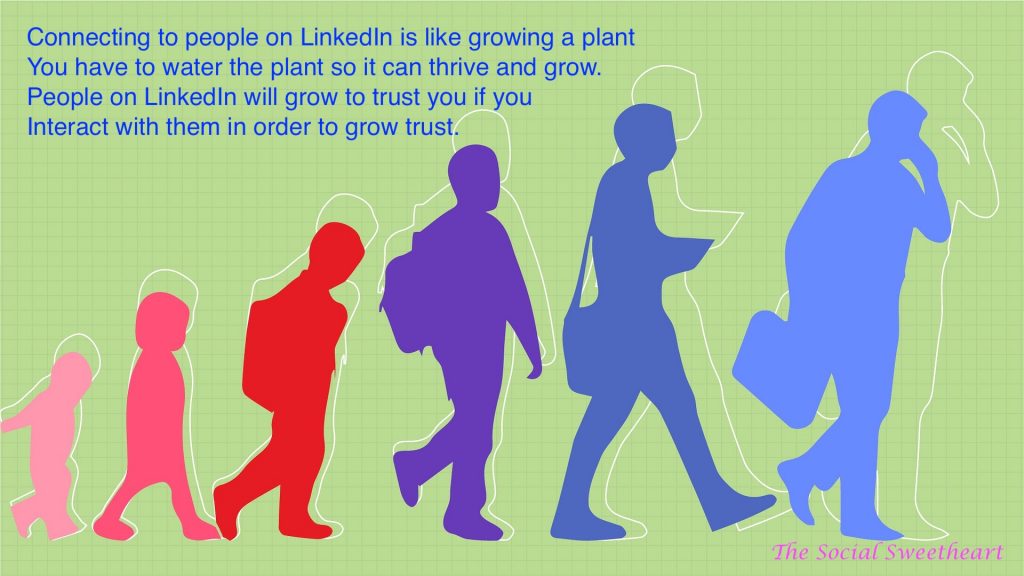 Growing Your Network by Connecting with Professionals
The bitter sweet truth is this – when you connect to someone on LinkedIn and share with them that the reason you connected with them was "to grow your network by connecting with professionals" they will probably connect with you. But, those connections will not "grow your network".
LinkedIn is similar to a plant. If you don't water the plant it will die. If you don't interact with your connections on LinkedIn, your goal to grow your network will die too!
Building Your Network on LinkedIn
You are not the only person using LinkedIn. Everyone has a reason to be there. If they do not know why they are using LinkedIn, and how to use LinkedIn they will wither away, quietly, in a corner.
LinkedIn is a great resource. Once you know whom you want to connect with and why the next step is to research those people so that you can offer them a solid reason why you want to connect. This builds trust at the very beginning of the new relationship.
Business alliances, partnerships, mentors, sponsors, referrals, can all be achieved if you know how to use this platform; not just for your benefit but for the people you are connected with.
Success, in many different forms, can be yours, by using LinkedIn effectively and consistently.
In reality, if you are connecting to people on LinkedIn and using these immortal words "I would like to connect with other professionals to grow my network", I hope that you will change your ways. It's for your benefit, and the people you are connecting with.
LinkedIn can offer you the success you are looking for, but remember to take care of your connections; I would not suggest you water them, they might not like that. But offer them some attention, find out how you can be of assistance. You will be surprised at the growth of your network once you know how to look after it properly.