Who am I?
It's important to know who I am because I want you to get to know me; I am not an invisible person hiding behind my blog posts. I am a real person and I have transformed my life many times in order to live my life fully and be the best I can be.
My early life saw me living my story as a Daughter and a Sister to two siblings. I became an employee, and from there I became a Wife, and from there I became a full time stay at home Mother. As my children became more independent I transformed my life again, but my story became about the necessity to survive the many challenges that had entered my life.
This is me ( and my sister whom is not visible in this photo) aged about 3 years old I believe.
Choices
Making choices about our life's path may be easy for some and difficult for others. I tended to go with the flow as a young child, and realised later in life I had somehow managed to make the best of every change in my life. I don't believe this was something I did because I had a choice, rather my instincts guided me every step of the path and I listened to them with a trust that had no boundaries.
Easy
Some of the changes in my life were easier than others, some of those changes caused me pain and suffering and lonely times. Once again my instincts took charge and I believe this gave me the faith to know what would be would be, and my belief things would work out OK got me through.
Transformation
Here I am today, writing this blog and here are some of the challenges I have experienced and some of the wonderful things that I have achieved by being able to accept change, choices and transform my life when needed.
Emigrated to Canada from the UK.
Breast Cancer
Divorce.
Worked 3 awful low paid jobs to ensure my 4 children were fed and had a roof over their heads.
New relationship
Double Mastectomy
Returned to school
Start my first business Motivational Steps
Early Adopter of Podcasting with my own show
Total Hysterectomy
Wrote my first published book A Life Like Mine, Living with life's challenges.
Co-Founded the Small Business Community Network (SBCN).
Small Biz Podcast for SBCN
Married my soul mate.
Almost died from a severe kidney infection.
Early adopter Social Media.
Skin Cancer.
Wrote my second published book, The APE Philosophy, for everything money can't buy.
Grew my client base into the States and Europe.
Wrote my third published book, Business Networking in a Nutshell, secrets from the Social Sweetheart.
Created, Co-Producer and Host of my own TV Show, The Small Business Show.
 Nominated by her peers as one of the leading Women Entrepreneurs in Canada in the RBC Canadian Women Entrepreneur Awards.
Nominated for Kitchener/Waterloo Oktoberfest Woman of The Year Award.
Motivational Steps has been awarded Best Woman-Run Business Development Consultancy – Canada.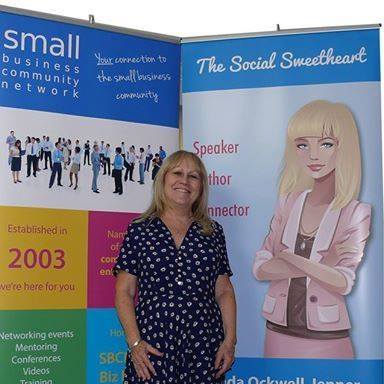 What do I do?
That's a good question.
I speak at conferences in Canada the States and Europe on various topics, such as Small Business, Business and Social Networking, Branding, and of course Health & Wellness. I am the original storyteller, I have personal stories to share that inspire and educate the audience. My life has been a roller coaster and still is but I escaped a life where I could barely survive due to divorce and financial challenges, and worked to build the life I truly deserved and love.
As a business consultant I offer various strategies to business owners of all sizes.
I arrange business networking events for organizations, the goal being to connect the employees from all part of the organization. This leads to increased collaboration and trust.
I am a content writer for various organizations in the form of blogs/articles.
I am a published author to 3 books another one due late this year.
Obviously I have condensed down what I actually do, otherwise this blog post would be a novel.
For more information contact info@motivationalsteps.com